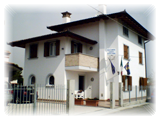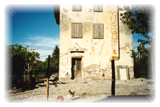 The Bed and Breakfast was born from an idea Sergio and Teresa had in 1999 when they decided to restructure an old farmhouse dating back to the end of the '700s and to the first part of the '800s. This building was bought in 1989. The restructuring work lasted 2 years and on July 14, 2002 Villa Lorena opened its doors to its first guests.
The Bed and Breakfast takes its name from Sergio's and Teresa's daughter Lorena.
After the successful opening of Villa Lorena, Sergio and Teresa decided to also restore the old hayloft in front of the farmhouse, where chickens used to be housed, and two beautiful and very charming flats were built. They were opened in 2004.
Villa Lorena is open from 15th April to 16 October round and is located at the center of a touristic area. Nearby, the following towns can be found: Grado, a seaside resort; Aquileia, famous Roman city with its archaeological sites; Palmanova, the Starry City, and Trieste with the Miramare Castle, the Giant Cave, and other well-known known touristic attractions. For nature lovers, we are located near the naturalistic oases of the Isonzo River mouth, the Marano Lagunare lagoon, and the Stella River mouth.
The address of Villa Lorena is: Via Ermellino 15, 33050 loc. Papariano Fiumicello (UD).
Villa Lorena is composed of five single rooms on two floors. A bathroom is available on each floor. Breakfast is served on the ground floor in a common area. Rooms with private bathrooms are available in the mini apartments. These are composed of a room, private bathroom, kitchen, and garage. Both rooms and mini apartments at Villa Lorena offer an ample garden area and the possibility of barbecue grilling.